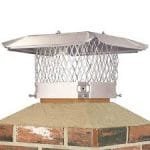 Even though a chimney cap on Long Island is a minor and relatively inexpensive installation many homeowners question whether it is necessary or not.

The truth is that this small amount of metal protecting your chimney can prevent numerous mishaps from taking place and save a homeowner thousands of dollars in unnecessary chimney repair or damage expenses.

So ultimately you may not need a chimney cap in place for functional purposes, but unless you want headaches down the road (and little critters running through your home), a properly installed chimney cap is a must.

A chimney cap will prevent animals from entering your home, keep the moisture out, and protect the roof from burning embers starting a house fire. A chimney cap is a covering for the top of your chimney, and it usually includes wire mesh. It makes a great deal of sense to install a chimney cap, when you look at the benefits.

A chimney cap prevents water from entering the chimney. Moisture can enter the flue anytime it rains, without a chimney cap. This can cause water to get inside the attic or house as it runs down the brickwork. The moisture can damage your walls and ceiling.

A chimney cap can stop downdrafts from entering the home. Downdrafts can cause your home to fill with smoke. Especially in windy areas, a chimney cap can be extremely beneficial in helping to make the home more energy efficient. Cold blasts of air are prevented from entering into homes equipped with a chimney cap. Give us a call today to have your cap replaced.
KEEP YOUR CHIMNEY HIGH AND DRY