EPDM Roofing - Long Island NY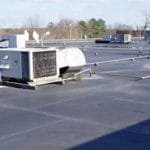 Pro Home Construction installs fully-adhered EPDM systems on Long Island. This means that the rubber membrane is glued to the insulation, completely adhering it to the roof.

The seams in the rubber are then bonded with 6″ seam splice tape – twice the size of the industry standard. The fully-adhered application of EPDM practically eliminates human error during installation. With years of experience installing rubber roofing systems, Pro Home Construction is an industry leader in EPDM expertise.

All of our employees are trained and certified EPDM applicators, ensuring consistent and thorough knowledge of the process. Give us a call today for a free EPDM roofing estimate.
WE HAVE UNEQUALED EXPERTISE IN THE FOLLOWING SERVICES